Checking out New, with Tags, at Buy it Now Prices plus size swimwear styles at eBay stores I noticed they
currently have 22 listed, in a variety of sizes 18W to 26W
!
Not all of them are for less though.
They have Always for Me's Polka Dot Daphane Swimdress for over $120 while we can find it using this
Always for Me Daphane Polka Dot Swimdress at Amazon
link now to find it in all sizes 12 to 26 for $99…
That said, most of these styles at eBay stores are very nicely priced. You can take this
New with Tags, Buy it Now priced, Always for Me Swimwear styles at eBay stores
link to go straight to these styles!
Here is a look at
Three Always for Me Swimsuits for $25 to $50
These are just pictures, but you can use the text link above to go to the page I found them on!
This Tankini swimsuit is
available for $24.99 in size 24W
.
You could bid on this one, starting at $14.99,
or just hit the Buy it Now or Add to Cart at eBay stores to buy it.
It shows both the top and bottom and,
like the others is Brand New, Unworn, Unused with original tags attached
.
This is just a picture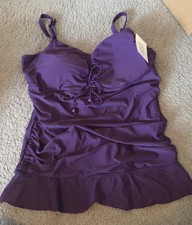 This is just a picture of Always for Me's twist front bandeau mini swimdress in plum,
now for $49.99 in size 20W
at eBay stores.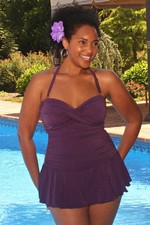 Both of the eBay sellers the above
two swimsuits are being sold from
have 100% Positive Feedback
!
This blue and white floral tankini is also
available in size 18W for $27.99
. It does not show, or mention the swim briefs, but says it is a swimsuit…
It's eBay seller has a 99.7% Positive feedback…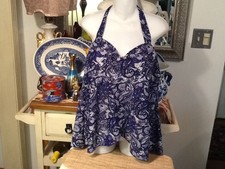 Just three of the currently available Always for Me swimwear styles, New, with Tags, at Buy it Now prices at eBay stores.
Currently, about half of these styles are swimsuit cover up styles.
If you like Always for Me swimwear, this is a great place to browse it from time to time!
Enjoy!
10/2/17
Anne