Speedo is a name many of us have worn at one point in our lives or another. It is a brand we have come to trust and rely on for continued pool swimming and a cut we can trust to be made for motion!
Sometimes it might seem pricey, yet as it turns out we can find great prices on Speedo Swimwear both at Speedo's site and at Swim Shop.
If you need more bust support in your swimwear, check out our
bra sized underwire Speedo and Wire Free Zoggs Swimwear
post.
Here is a brief comparison of some Women's Speedo Swimwear at Two Stores
The Sizing Differences
The main difference between these two stores is Speedo uses swimwear sizes and Swim Shop uses the measurement our busts at their fullest. With this in mind:
Speedo
swimwear seems to go
up to size 3X, 24 as well as 16L and 18L
on their
Plus Size Swimwear at Speedo
page.
They also have a contouring swimwear line, which you can read about on our
Speedo's New Sculpture Swimwear line
post. Their
Speedo's Sculpture Swimwear
currently shows sizes up to 22.
If you use this
Women's Speedo at Swim Shop
link you can find their swimwear in,
your bust at its fullest, measurements of 24" to 44"
Now here is a brief price comparison of these two stores!
Speedo Women's Swimwear Prices at Speedo and Swim Shop
Generally, the full prices at:
Speedo on regular tank style women's swimsuits tend to be around $68 to $88, in the plus size department. They do have sale styles too.
At Swim Shop the women's full priced tank swimwear tend to have been under $50 at full price,
which they never seem to be, and are offered at sale prices quite often under $30 For instance:
Here is one of Speedo's Sculpture swimsuits, available in sizes
8 to 18 at Speedo for $78
.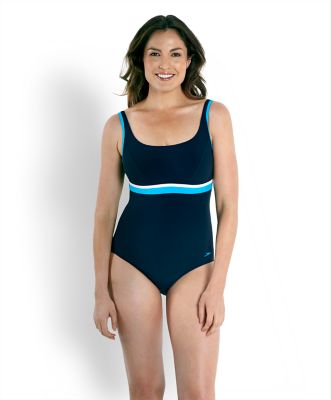 Speedo Sculpture Solid Contourback Fitn...
Speedo USA Unisex Sculpture Solid Contourback Fitness : Navy/Blue: The Speedo Sculptu...
[More]
Price: $78.00
Sale: $78.00
10/2016 Update: I removed the picture links examples of the comparable Speedo styles available for less at Swim Shop. They still have an excellent selection of full figure women's Speedo Swimwear there. I encourage you to take this
Plus Size Speedo Swimwear at Swim Shop
link and check them out!
Swim Shop had a Speedo Sculpture Swimsuit of similar Speedo swimsuit for $30 at this original post's date. design currently available at Swim Shop.
Swim Shop uses a different sizing method
:
Bust measurement at its fullest
, in
inches: 34", 36", 38" and 44"
.
Or Speedo's Watergem in solid
black, $78 in sizes 8 to 22
. It is
$31.20 in blue, but down to size 18
…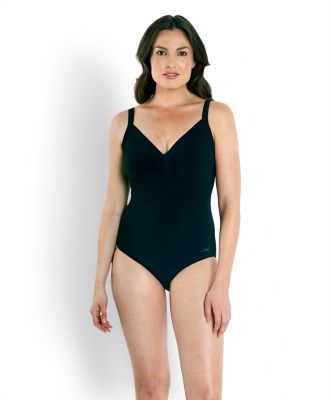 Speedo Sculpture Watergem Solid Contourb...
Speedo USA Unisex Sculpture Watergem Solid Contourback Fitness : Black: The Speedo Sc...
[More]
Price: $78.00
Sale: $78.00
That was $28 at
Swim Shop at the date of this original post and available in solid black
, in
sizes 34" to 44", you bust measurement at its fullest
.
Speedo Swimwear is not always less at Swim Shop, mostly because Speedo has sale styles too!
We can enjoy their Sculpture Crystalshine Solid Contour back in sizes
16 to 22 for just $33.60
in this version pictured below or solid black with a contrast, (looks lilac to me), belt and straps.
This is just a picture
of it in its blue/pink version at Speedo.
You can find it using
Speedo's Sculpture Swimwear
link
.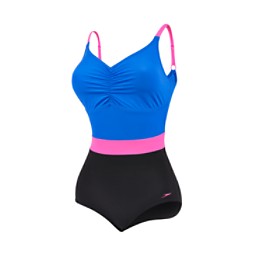 Swim Shop had this in its periwinkle / orange color you can find it for
$47, in sizes 34" to 44"
.
So Swim Shop is not always the least expensive, but if you are looking for excellent prices on Speedo and other chlorine resistant swimwear, (such as Zoggs, perhaps more!), it is well worth browsing!
Naturally, if you are going to comparison shop Speed Swimwear, you might want to browse Amazon as well. They have plenty!
More on this later…
Enjoy!
Updated 10/17/16
4/8/16
Anne